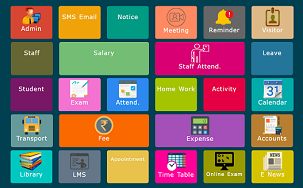 By

Arsal Software

|

April 8, 2021

|

Best School Management Software India
There are many School Management Software package claiming to be best within the market, but the question is which one is better than others. While looking for Best School ERP for your campus, look specifically how many features a School Management Software must have.
In the contemporary world, the School Management System has become a necessity for every school. Mostly when it comes to big schools with larger no of strength, it becomes important to have a School Management Software for smoother administration task.

School ERP System may be a set of variety of core modules that helps each and every one connected to a school including the executive staff, parents, students, and teachers. It automates all the work done by various departments thus may be a package of different applications on one platform.
Best School ERP Software brought a drastic change to the field of education because it replaced the paper-based system. The work are often wiped out a brief time as there's not much paperwork, this reduces the wastage of time. It helps parents to collaborate with teachers and may communicate with them through text messages anytime from anywhere. They also get updates and announcements regarding upcoming events and functions through email and messages.
Have a look on the top of extremely effective School Management Software Features.



Cloud-Enabled Technology, Anytime Anywhere 24x7 Access .
User Friendly Interface, Graphical Reports With Rich UI.
Centralized Installation Which Gives More Enchaned Security, Data Recovery And Faster Updates.
Mobile Application Support.
SMS Email, Payment Gateway Integration.
Customizable as per School Requirements.
RFID, Biometric, Barcode Scanner Integration
Fully log based, error control application
Core Modules are SMS, Notice, Student, Fee, Staff, Activity, E-News, Student Attendance, Staff Attendance, Exam, Salary, Calendar, Leave, Homework, Transport, Expense.
Advance Modules are Live Meeting, Online Exam, LMS, Visitor, Hostel, Reminder, Inventory, Accounts, Time Table.